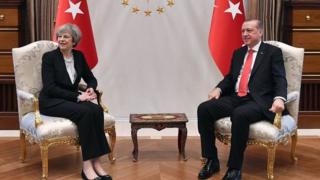 Theresa May has said the UK will enhance trade relations with Turkey after talks with the country's President Recep Tayyip Erdogan.
The prime minister said Turkey was one of Britain's "oldest friends" but there was much that could be done to build on that relationship.
Mr Erdogan announced that Turkey aimed to increase trade with the UK to $20bn (£16bn) a year from $15.6bn.
Mrs May and Mr Erdogan also discussed Cyprus, Syria and aviation security.
The prime minister said they agreed to have a joint working group to prepare the ground for the UK's post-Brexit trading relationship.
As they spoke to the media, she said: "You mentioned, Mr President, the opportunities for enhancing the trade between our two countries. And we've discussed that.
"And we both want to build on our existing links. And I believe that doing so will be to the benefit of both our countries and for the prosperity of both our nations."
Mrs May described the discussions as "very fruitful".
Mr Erdogan said: "The UK and Turkey will enjoy a very different nature and a very different position."
Analysis – By defence and diplomatic correspondent Jonathan Marcus
Both Ankara and London find themselves in a position where they need friends. Many fear that Turkey – a key Nato ally – is heading towards a more authoritarian future under President Erdogan.
He is clamping down on dissent and press freedom, pushing his country further away from the prospect of EU membership and in the process drawing strong criticism from European governments.
Mrs May arrives as an advocate of "global Britain" – this policy a necessity following the Brexit decision.
The UK has a strong security relationship with Turkey – an ally in the fight against so-called Islamic State (IS) – and she will also be seeking preliminary understandings on bilateral trade.
But she will need to show her domestic critics that the growing emphasis on trade in Britain's relationships abroad does not come at the expense of values such as human rights.
Mrs May's first prime ministerial visit to Turkey comes as Mr Erdogan is increasing pressure on opponents following the failed military coup in July 2016.
"I am proud that the UK stood with you on July 15th last year in defence of your democracy," she said.
"Now it is important that Turkey sustains that democracy by maintaining the rule of law and upholding its human rights obligations as the government has undertaken to do."
Nearly a month ago, 39 people were killed in an attack on a New Year's Eve party at a nightclub in Istanbul.
IS said it was behind the assault and the militant group was linked to at least two other attacks in Turkey last year.
Meanwhile, it has been announced that the UK has agreed a £100m defence deal to help Turkey develop fighter jets for its air force.
Mrs May said the agreement, between BAE Systems and Turkish Aerospace Industries, "underlines once again that Britain is a great, global, trading nation".
The prime minister arrived in Ankara from the US where she met US President Donald Trump.
Earlier, Brexit Secretary David Davis predicted a "round of global trade deals" would be "fully negotiated" within 12 to 24 months, coming into force when the UK left the EU.
The government plans to begin the formal two-year Brexit process by triggering Article 50 by the end of March.